Vydox Review: Is It Safe?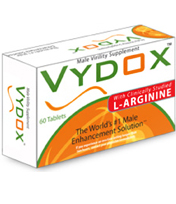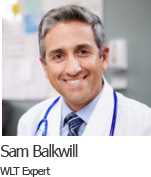 How does Vydox work?
The product website promotes L-Arginine as its main ingredient. L-Arginine is an amino acid that is converted to nitric oxide. Nitric oxide is valuable because it works as a vasodilator, which means it works to widen the blood vessels and veins within the body, which leads to increased blood flow throughout the body. When the body becomes aroused, blood flows to the penile chambers and fills them, thus creating an erection. The more blood that is able to flow to the chambers, the bigger and stronger the erection will be. Increased blood flow will also make for increased sensitivity, which can lead to more enjoyable and satisfying sex.
Additionally, the product contains multiple stimulants such as Yohimbe and Horny Goat Weed, which will both increase the user's heart rate, and get blood pumping faster, in addition to raising libido. Both ingredients provide a temporary bump in energy and stamina, as well as mental focus. All of which can be utilized to benefit sexual performance.
Top Benefits: Product contains some quality ingredients that have the potential to be beneficial for male enhancement, website provides a lot of information regarding how the product works and the function of its ingredients, manufacturer provides clear contact information.

Negatives: The product is considerably more expensive than many other male enhancement supplements, no money back guarantees are offered by the manufacturer, overall negative reaction from consumers who have tried the product.
Experts have named the 10 best male enhancement supplements of 2017.
Who makes this supplement?
The creators and manufacturers of this product are Premium Nutraceuticals, LLC. Their contact information can be found through the Vydox website, and is as follows:
Address: 4820 Technology Drive, Martinez, GA 30907
Phone Number: (800) 270-5693
Email: No e-mail address is provided, but the product site does have a page for submitting questions electronically.
The product is sold through Vydox.com, as well as other online vendors, such as Amazon.
The manufacturer has several hundred complaints on their Better Business Bureau page, many of which focus on misleading free trial that Vydox offers. The free trial enrolls consumers into an automatic debit system in which they are charged as soon as the 14-day free trial ends.
See what male enhancement supplements were named the 10 most beneficial via top 10 list.
What's inside of it and are there side effects?
The product website provides a thorough list of ingredients that are included, along with an explanation of the function of each of the ingredients. Information such as this is helpful to the consumer because it allows them to better understand what they are putting into their body and how it is supposed to work. That said, the manufacturer does not provide uses with specific dosage information for each of the ingredients, nor does it allow them to view the supplement facts. The ingredients are part of a proprietary blend, so how much of each ingredient the user is actually getting is unknown.
Many of the ingredients in Vydox are commonly found in other male enhancement ingredients. Unfortunately, there are some that contain the potential for negative side effects. Here are a few of the ingredients that are included:
L-Arginine: Popular ingredient in male enhancement products because of a proven link to good erectile health. It is an amino acid that is converted to nitric oxide once it enters the bloodstream. Nitric Oxide is a chemical that effects how width of our veins. One of the most important aspects of sexual health is good circulation and blood flow, so increasing the width of a user's veins can be invaluable to maintaining strong, healthy erections once arousal occurs.
L-Arginine is also beneficial to the production of more testosterone. It creates more insulin and human growth hormone within the body which is one of the first steps to creating more testosterone which is the key achieving and maintaining good sexual health.
Yohimbe: Derived from an evergreen tree that is found in central and west Africa. The bark of the tree is used to make medicine. It is heavily regulated in the USA, and the pure form of Yohimbe is not allowed in over the counter products. It has been used to treat a variety of issues, specifically it is utilized as an erectile aid because of its stimulant properties. It can be effective in increasing mental sharpness and increasing heart rate, which leads to an increase in circulation.
Unfortunately, it comes with a number of potential side effects that range from mild to serious. Some of the side effects include:
Paralysis
Seizure
Heart attack
Horny Goat Weed: An herb that is derived from a barrenwort plant often found in China, it can work as a stimulant and can be effective in promoting increased blood circulation, as well as increase libido and sexual performance. Unfortunately, the supplement comes with the potential for a variety of side effects, including:
Dizziness
Muscle spasms
Heart arrhythmia
Horny Goat Weed also can mimic estrogen in the body, which can be detrimental to those attempting to maximize their testosterone levels and can be harmful to those with thyroid conditions. The benefits of Horny Goat Weed can also be replaced with less harmful ingredients, such as Maca.
Experts have chosen the top 10 male enhancement supplements currently available!
What's good about Vydox?
The product features some ingredients that have been clinically studied and found to be effective as a treatment for certain male enhancement issues. Amino acids like L-Arginine are beneficial for improving blood circulation, and aphrodisiacs such as Yohimbe and muira puama can have a profound effect on increasing the libido of the consumer. Additionally, there are stimulants that can provide short-term energy boosts.
The product website provides a good amount of information regarding the ingredients that are included. The purpose of each ingredient is explained as well as how it will function in the body. Furthermore, the site references clinical studies that support the effectiveness of some of the ingredients.
What's bad about Vydox?
While the product website offers a lot of information about the ingredients it uses, it leaves out some key data. They do not offer the specific dosages used for each ingredient, so consumers don't know how much of each additive they are ingesting. Additionally, there is not mention of the possible side effects of many of the ingredients. Yohimbe, Horny Goat Weed, Muira Puama, and Damiana are all ingredients that are included and have the potential to product serious negative side effects, such as higher blood pressure and heart issues.
The product is also significantly more expensive than many other male enhancement products that feature a lot of the same ingredients. A one-month supply of the product is $84.99 and it comes with no money back guarantees, meaning if it is ineffective it is essentially just a sunk cost to the consumer. Furthermore, many customers have complained that the free trial offered by the manufacturer is misleading, and charges you unexpectedly for a whole month's supply.
Click here for experts list of the top 10 male enhancement supplements.
What do consumers think about Vydox?
Consumer reviews of Vydox are relatively easy to find, as the product is featured on many online vendor sites. Overall the reviews for Vydox are decidedly mixed to negative. The basis for a lot of the negative reviews were side effects that were experienced and the ineffectiveness of the product.
Here are some of the reviews that were found:
"I took this product and found it to be dangerous and almost like taking a psychedelic drug. It may have been the Yohimbe. I was feeling uncomfortable, anxious, and restless for days."
"I used this product just as directed and immediately became sick. I felt nauseous and had diarrhea, and also felt agitated for days. Avoid this."
"I took two pills at midday and had a sleepless night. I checked my blood pressure in the morning and it was through the roof. And of course, it didn't help with my ED. This product should be taken off the market."
Conclusion
Vydox is one of the more expensive male enhancement supplements we have seen, but the only thing that seems to set it apart are the serious side effects it can produce in users. There are a few quality ingredients, but they are heavily outweighed by the use of stimulants and potentially dangerous additives. For the most part, the consumer reaction has been concerning because it seems a lot of users have experienced some scary side effects after taking the drug, and very few have seen it benefit their sexual issues.
Additionally, there are quite a few complaints that the manufacturer's free trial is misleading and will charge consumers unexpectedly. Overall, there just don't seem to be many reasons to recommend this product, particularly when there are dozens of other male enhancement products that are cheaper and more effective. Viritenz is a male enhancement supplement that can used as needed and uses only clinically tested, effective, all-natural ingredients. Viritenz also offers a money back guarantee and customer service to answer any questions or concerns a consumer may have.
Customer rating:
- 0 voted
Receive a Weekly Newsletter from CGH