TripleFlex Review: Is It Safe?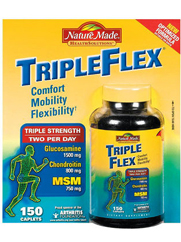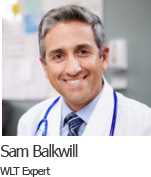 How does TripleFlex work?
2 capsules are advised with food, and they advise taking it water to improve digestion. They recommend waiting for a full 4 to 6 week period in order for there to be any results.
A simple explanation is given about the possible benefits. They use 3 very common joint health ingredients which is why they call this TripleFlex. This is intended to help support the following:
Flexibility, cartilage health, joint mobility, and replenishing cartilage
A small image is provided on each container which shows how it can help the cartilage, tendon, bone, and synovial fluid. They make other versions of this brand with more added to it including vitamin D, or with stronger dosage strength of all the ingredients.
Top Benefits: The formula has basic ingredients which are well-researched for their ability to support joint health. Free of common unwanted additives and fillers.

Negatives: Very basic and often seen in countless joint health supplements.  Company has had major recalls due to safety concerns.
Here's a full representation of all the most highly regarded joint health supplements.
Who makes this supplement?
Pharmavite LLC is their official name, here's their contact information:
Address: PO Box 9606
Mission Hills, CA 91346
Phone Number: (800) 276-2878
They work in cooperation with the USP to help verify the quality of their supplements.
Their official website displays a notice that a recall was enforced due to a possible salmonella or staph contamination. There is no explanation into what caused this exactly, and whether or not they took the necessary measures to ensure that this would not happen again. Both contaminations can be potentially dangerous and they may lead to serious health complications.
3 complaints are on their official Better Business Bureau listing, one consumer said that they were not offered a refund even though they should have been able to do so. Another said that the company did not honor their claimed rewards program, and that it was suddenly removed without warning so consumers could redeem the rewards points.
These supplements were considered to be the most effective at increasing joint health and relieving inflammation.
What's inside of it and are there side effects?
The following are some general ingredients added to most versions, though some have added vitamin D:
Glucosamine Hydrochloride: Cartilage at the end of bones which is used to help retain joint health. This is effective at preventing osteoarthritis symptoms, preventing damage to sensitive areas. Often added to supplements like this as a basic ingredient, this can help rebuild cartilage for a cushioning effect.
The brands we considered to be the best at increasing joint health are ranked in this top 10 list.
Chondroitin Sulfate: Found in connective tissue inside of the human body, this is often blended alongside Glucosamine for a combined benefit towards joint health. This can help have a shock absorbing effect while also reversing cartilage loss.
Used for general inflammation and to reduce the breakdown of tissue caused by osteoarthritis.
MSM: Natural inflammation lowering ingredient that is used to help rebuild healthy tissue. This is found within the human body as well as many kinds of foods such as vegetables and grains. Arthrithis.org has mentioned a study that showed this could lead to:
"improved symptoms… without major side effects"
This is often used alongside Glucosamine and Chondroitin to help maximize joint health since each is already found naturally in the body.
Inulin: A kind of fiber found in many kinds of natural plants.
Some side effects can potentially occur including:
Gas, stomach issues, and cramping.
Diarrhea, allergies, and bloating.
This is useful for creating healthy bacteria. It is often used to reduce constipation, cholesterol, and triglycerides.
Hypromellose: Used as an inactive ingredient to thicken and to help substitute gelatin as a form of capsule. This is a vegetarian friendly way instead of using gelatin which is often fish or animal based.
Vitamin D: Important vitamin that the body produces naturally after being exposed to sunlight. This can be useful for regulating mood, metabolism, supporting overall bone health, and improving cardiovascular function.
This will often be supplemented in areas where there is less sunlight, or where access to foods which in this vitamin are limited.
Here are the top 10 joint health brands that can help alleviate inflammation, discomfort, and overall pain.
What's good about TripleFlex?
For simplicity this does offer a blend of 3 active ingredients often added to joint health brands because they are well-researched. MSM, Glucosamine and Chondroitin can help improve joint tissue. They also make it easier to take by not adding any cheap filler or unnecessary additives. This includes common allergens, preservatives, and artificial ingredients of any kind.
There's a wide availability since you can find it in general drug stores as well as through various 3rd party websites. Their website gives a simple explanation as to how this works, what precautions to look out for, and they ensure the quality by making it in a GMP approved facility. You get to fully understand what this is intended for and what possible expectations to have.
The company has come together with the support of the USP to ensure the quality of their ingredients is consistently good.
You also know exactly what you're getting with this.
What's bad about TripleFlex?
This may take a while for there to be any effects; they recommend waiting up to 6 weeks to see if anything improves. Since each bottle lasts only 30 days, you have to take multiple bottles in case it does take this long for any changes to occur.  This is an exceptional amount and may end up not producing zero results, wasting both time and money.
They do mention that there are some possible side effects including headaches, drowsiness, and a skin rash.
The formula is very simple and there are various other brands which use the exact same blend. These ingredients can be helpful but other than the fact that they don't use unwanted fillers, there is no reason to favor this over similar joint health supplements. You can find brands with the same basic ingredient but alongside may other additives to help boost the overall benefits.
After looking at many types of join pain relief brands, these 10 were considered to be the most beneficial of the year.
What do consumers think about TripleFlex?
"Good price and it helped relieve some of my soreness. Effective for what I needed in my general soreness and joint pain"
"Waited up to 6 weeks but even though it was recommended I didn't see any improvement, not for me"
"This was advised by a doctor but I would not buy it again can't tell a difference in any way. So while yeah it does have some good ingredients it wasn't good enough for what I wanted"
"Tricky to swallow since the capsules are so large but I did like taking this it worked. Got rid of my knee and back pain though so looking forward to that"
The brands we reviewed to be the most effective at boosting joint health are fully outlined in this link.
Conclusion
You can't expect much from this very basic formula. It is good they focus on adding a high quality source of 3 common ingredients, but at the same time you can't expect that much more support than you would get from a standard generic brand. The issues with those is that many said the capsules were too large, and there were some users who waited a long time for effect and it often failed to produce much benefits.
This is too simple to be able to fully rely on it for lasting joint health improvement. There are brands which are more well-rounded, backed by ingredients like fatty acids and all which can provide results both in the short and long-term. The company has also had some issues in their manufacturing by having to enforce recalls on several supplements.
Overall the best joint health supplement with a high dosage strength backed by consumer reviews was Flexitrinol. The ingredients were also shown in 3rd party studies to be beneficial at improving joint health over time, while providing immediate relief. Here's a further explanation into the natural number 1 rated Flexitrinol where we explain all the benefits it can provide.
Customer rating:
- 1 voted
Receive a Weekly Newsletter from CGH