Heal-n-Soothe Review: Is It Safe?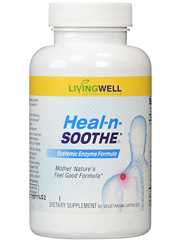 Heal-n-Soothe is a nutritional supplement for reducing joint inflammation. It consists of a large formula of ingredients that are supposed to reduce existing inflammation and pain that can be preventing people from living full lives.
Unlike other joint health products, this supplement doesn't contain any shellfish or animal products. Flexitrinol is the supplement we recommend for improving and maintaining joint health. With a natural blend of ingredients that can help reduce inflammation and pain, as well as rebuild those parts of the joints that matter most, it's the best joint health product currently on the market. Flexitrinol has won over experts with its quality and effectiveness, and comes with lots of positive customer reviews.
COMPARE Heal-n-Soothe WITH BEST JOINT PILLS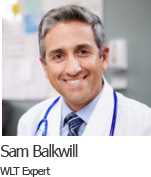 How does Heal-n-Soothe work?

This product is mainly based on reducing inflammation in the joints, allowing people to have more mobility and less pain. It's supposed to do this primarily through the action of enzymes, which are supposed to affect the response time and efficiency of the body's natural inflammatory process. By doing so, it's supposed to reduce inflammation and thus limit the discomfort associated with it. These enzymes are also supposed to soothe the body and reduce the level of stress, leaving the body more energy to spend on fighting the inflammation.
In addition to these enzymes, the product contains a number of herbs and plant extracts which are supposed to have similar anti-inflammatory effects, with some serving a double function as antioxidants, which can help the cells stay in top shape by preventing the oxidation process that can lead to their deterioration.
Top Benefits: All the ingredients in this product are naturally-derived and contain no animal products or major allergens like shellfish or dairy.

Negatives: Some of its ingredients have no proven medical value, and the company has been accused of misleading shipping and refund practices.
For the best supplements for joint health, click here for a Top 10 list.
Who Makes This Supplement?
Heal-n-Soothe is made by Living Well Nutraceuticals, which appears to be the same company as The Healthy Back Institute, a natural supplement company based in Texas. In addition to pills, they also sell DVDs and books about addressing back and joint health. Their contact information is here:
Address: 2407 Congress Ave Ste E 100, Austin, TX 78704
Phone Number: (800) 216-4908
Email: No email was found in connection with this company.
At the moment, this product seems to only be available from the product's main website, although it was once available from Amazon.
For joint pain, we recommend this list of high-quality supplements.
What's inside of it and are there side effects?
Heal-n-Soothe's ingredients seem to all be derived from natural sources, mainly roots, plants, and natural chemicals. There are no animal products in this supplement, unlike other joint products that commonly contain shellfish (glucosamine) or products from cows (gelatin). The company claims that the product must be taken for some time before the optimum results are seen.
Here are some of the primary active ingredients in this supplement:
Boswellia Extract: Another word for Indian frankincense, a common Ayurvedic medicinal treatment in Indian herbopathy. This extract is supposed to work as an anti-inflammatory, but while there are some clinical studies that show it can reduce some inflammation, these are only with specific versions of this extract (none of which are in this product), and claims about its other medical benefits have not yet been sufficiently proven.
Enzyme Blend: A combination of various enzymes derived from sources like pineapple (bromelain) and papaya (papain). These are supposed to be natural anti-inflammatories and pain reducers, and have been prescribed in natural medicine for some time. Unfortunately there's not a lot of scientific evidence proving that they work, and papain in particular is something to be treated with caution, as side effects from using it have included:
Damage to the throat, low blood sugar
Birth defects, poisoning of the fetus
Ginger: A natural extract used mainly for calming upset stomach and reducing some types of inflammation.
Devil's Claw Extract: An African herb that's mainly used to make a medicine for treating atherosclerosis and arthritis. It's supposed to have chemicals in it that reduce swelling and pain. Possible side effects from taking it include:
Diarrhea, nausea, vomiting
Stomach pain, headaches
Mohave Yucca Root: Made from the cactus-like yucca plant found mainly growing in the American southwest, this extract is supposed to help with inflammation and antioxidation. Unfortunately there's not much research that's been done with this product, and no one seems to have done conclusive scientific tests on its health effects. Some side effects from taking too much include:
Diarrhea, hemyolysis (burst blood vessels)
Citrus Bioflavonoids: Derived from the rinds of citrus fruits, these compounds are supposed to help with the actions of vitamin C, and to reduce inflammation. Claims about their effectiveness are apparently exaggerated, however, as the effects and benefits that have been observed in test tubes have not been seen in the human body. More research is needed to prove that these substances work.
Rutin: Another source of bioflavonoids. It has shown some use as an anti-inflammatory in mice, but not in humans yet.
Click here for out list of the Top Ten joint pain relief products.
What's good about Heal-n-Soothe?
This product seems to contain only natural ingredients, something that's become important for many consumers who perceive artificial ingredients as being somehow harmful or harsh on the body. It also seems to contain no common allergens like gluten, soy, or dairy, meaning it's likely safe for people who have those allergies. It also contains no animal products, making it okay for vegetarians and vegans to consume.
The serving size is only three pills, and each bottle contains enough for one month, which is reasonable and standard. The product comes with a money-back guarantee, in case the customer feels like it isn't working for them.
These supplements could help you in treating your joint pain and health.
What's bad about Heal-n-Soothe?
Some of the ingredients in this product have very little proof that they work at all. The enzymes that this product contains, which are supposed to be the main active ingredients, have shown no evidence in human-based clinical trials that they have any anti-inflammatory action whatsoever, which deals a serious blow to the credibility of whether this product works. At least one of these enzymes, papain, also comes with some pretty bad side effects that have been observed, so caution needs to be taken with it.
The company that makes this product has very little presence, and with the weak presentation of the website and the dramatic, over-the-top writing (about how customers can choose to "kill" themselves with standard anti-inflammatories, or take Heal-n-Soothe instead) make the company out to be less professional than many other joint supplement companies we've dealt with.
The company also has 25 customer complaints on their Better Business Bureau page, mainly regarding refunds. Some people were also charged for things they did not order.
Men and women stand to improve their joint health by using one of these Top 10 supplements.
What do customers think about Heal-n-Soothe?
Heal-n-Soothe has only one review on the product website – "Hooked on the product!," it reads – but there are other reviews to be seen on the Amazon page where the product used to be sold:
"They won't honor their refund policy – beware of these people!"
"My stomach really hurt while using this product. I wish they would accept the opened bottles as a refund, because now I won't get that money back!"
"This took a while to work, but once it did, I really saw a positive difference in my body."
"I've been taking these pills at night, and I wake up in the morning without any pain."
These joint supplements are the most effective at treating inflammation and pain.
Conclusion
The overall impression of this product is a little dismal. For one, some of the ingredients in its formula don't have any proof that they work,from a scientific perspective. They also come with some bad side effects, some of which customers have reported having. The other negative thing is the company itself,which according to customer responses seems to have a misleading return policy that ropes people into buying things that they cannot later return.
This product also doesn't contain any ingredients that actually build up the joints and help them function better, which is a loss, especially since many other joint health product do contain ingredients that can do that.
All in all, it looks like people would be better off going with another joint health product that can reduce inflammation, and comes from a more customer-loved company.
Out of all the supplements out there that are supposed to relieve pain and restore function in the joints, the one we recommend the most is still Flexitrinol. With its high-quality ingredients, history of customer satisfaction, and its money back guarantee, it has stood out from its competitors and takes it place at the top of our list. Flexitrinol is one of the best joint health supplements out there, and its effectiveness and value has earned praise from experts and customers alike.
Customer rating:
- 1 voted
Receive a Weekly Newsletter from CGH