Emergen-C Joint Health Joint Support Review: Is It Safe?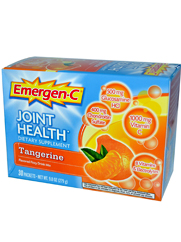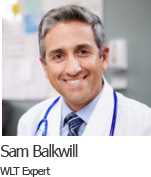 How does Emergen-C Joint Health Joint Support work?
Their official website doesn't offer much information about the specifics of this brand but the supplements facts are published on other websites. The back of the label suggests this for those 14 and older only.
One packet is advised 3 times daily, emptying the entire packet within a 4 to 6 oz. glass of water. To lighten the flavor it's recommended to add more water. Other than the serving recommendation, they fail to mention what makes this particular brand unique.
Looking at the 4 unique joint health ingredients they focus on antioxidants and natural chemicals found in the body which can regenerate joint tissue. It's used to increase joint flexibility, rebuild cartilage, and support overall joint function.
Check out the top 10 supplements for supportive joint health care; these brands were considered the best of this year.
Top Benefits: Contains many vitamins and minerals, general joint health ingredients, and it's available in a fruity flavor which some may enjoy.

Negatives: Very basic formula, has added sugar at 5 grams per serving, and there isn't anything unique about the ingredients.
Who makes this supplement?
They operate under the name Alacer Corp. but they have since been bought out by Pfizer. Their contact information is:
Address: PO Box 1043
Kings Mountain, NC 28086
Phone Number: (888) 425-2362
In 2023 a lawsuit was filed against the company for deceptive marketing. This ended with a $6.45 million settlement due to the unproven health claims made about Emergen-C.
The best joint health brands were carefully selected after looking at their company history, quality of ingredients, and user experiences.
What's inside of it and are there side effects?
Glucosamine HCI: Made naturally by the human body, this helps provide a cushioning effect in the joints to help prevent trauma. It is supplemented and found in many joint health supplements to help build more cartilage.  Generally well-tolerated in standard amounts.
Chondroitin Sulfate Sodium: Natural chemical found near the joints, this can help prevent the breakdown of healthy joint tissue. You'll often find this in joint health supplements to help prevent arthritis conditions.
Alpha Lipoic Acid: A fatty acid in mitochondria which is sued to help provide potent antioxidant benefits. Used for anti-aging purpose and to help stop the spread of inflammation.
Quercetin: A bioflavonoid inside of berries green tea, red wine, and many other foods and herbs. It is used as a natural way to reduce inflammation and to provide antioxidant benefits.
When used in excess it can potentially lead to a tingling in the arms and legs.
Ascorbic Acid: Common dietary supplement that provides the antioxidant vitamin C. This is used to help boost the immune system and to prevent the breakdown of healthy cells.  It can also help regenerate healthy tissue.
Zinc Ascorbate: A source of the mineral Zinc, this can be used to boost the immune system.
Potassium Phosphate: This is a general name used for salts of potassium and phosphate. Most commonly used to prevent kidney stones.
Cyanocobalamin: Vitamin B12 that can be used to promote the creation of tissue, cells, and overall growth. A total of 417% of the daily value is added per serving. At this excess amount it may potentially lead to some organ damage such as kidney failure.
Since B vitamins are water soluble, this means it may also be largely filtered out through urine. However, since the company has failed to explain why so much is added, it's impossible to determine what kind of results may occur.
Pyridoxine Hydrochloride: A common vitamin B6 supplement that can be used to regulate metabolism, support he intake of nutrients, and to regulate nerve function.  500% of the daily value of B6 is added per serving of this brand.
Fructose: A basic sweetener which is the first mentioned inactive ingredient in this brand. It provides a total of 5 grams of fructose, which is a fruit sugar found in many kinds of plants. This has no nutritional benefit and is only effective at providing a sweet taste. The way this is processed strips much of the nutrients.
These top ranked supplements were considered the most effective for regulating joint health.
What's good about Emergen-C Joint Health Joint Support?
There's an added convenience of getting this formula in a small packet which you can mix alongside water. This helps preserve the ingredients and it's quite simple to add this to some water and shake it up. The added fruity flavor might be favorable to some consumers as well.
The added general antioxidant and joint health ingredients can be good at improving overall joint function. This includes the added Chondroitin Sulfate Sodium, Glucosamine HCI, Alpha Lipoic Acid, and Quercetin.
There's also a wide availability since you can find this both online and in many retail stores. This is typically offered even in small gas stations.  More information on what the highest rated joint health brands are offered in this full top 10 list.
What's bad about Emergen-C Joint Health Joint Support?
There are certain ingredients in this added in excess of 100% of the daily value. This may be because most of it is flushed out in urine, but this can also be potentially strenuous on the organs, causing side effects in excess.
There also isn't anything unique about this which you won't find in the most basic joint health supplements. Nothing about this is replaceable by the most generic of brands.
The company has also had to pay a major lawsuit for making unproven health claims about Emergen-C. Whenever claims like this are made without evidence it raises questions about whether or not the company is trustworthy. Since they could not provide suitable evidence for their health claims, it's clear they were at one point willing to lie about the possible benefits.
Another issue is the fact the company has failed to give much of a breakdown of what this is meant to do. There is a basic explanation on the packets which are found when you purchase this, but they fail to really explain what it can do on their official website.
The added 5 grams of sugar per serving is better avoided for consumers looking to control their joint health. Sugar can potentially increase inflammation, worsening joint health over time. This can help make it easier to drink, but there are better sources of sweeteners out there.
Here's the best joint health supplements rated in a top 10 list.
What do consumers think about Emergen-C Joint Health Joint Support?
"Vitamin C is a bit lower than what I would like but it's ok for what it is kind of simple to be honest"
"Kind of medicinal tasting instead of tasking like fruit should so its not that pleasant to drink"
"Made my joints a bit less uncomfortable so for me it worked but it may not for everyone"
"I like using this because you get a full dose real fast with a quick drink, so easy to take"
Improve your joint health with ease, here's a full list of the best joint health aides.
Conclusion
The main unique thing about this is its convenience, it's portable, easily mixed, and combines many ingredients. Other than this however it's not any more different than the various kinds of joint health supplements on the market. This is mainly made with basic ingredients you can find for general health, as it has many vitamins and minerals. Only 4 specific ingredients are used for general inflammation and joint tissue growth.
A major problem with this brand is the added sugar which can potentially worsen joint health, as well as general health. The basicness of the formula also makes it hard to pick over similar brands. Because of the lack of uniqueness it may be better to avoid this especially with the major lawsuit the company had to pay due to their unproven health claims.
The brand that was considered the best of the year for joint health support is Flexitrinol. The natural ingredients, high dosage strength, rave consumer reviews, ease of use, and studied additives showcase how potentially useful it can be. This has shown the ability to help promote long-term joint health benefits as well as provide instead relief from pain and discomfort. Follow this link to learn about what kinds of possible changes Flexitrinol can offer for your joints; a full review is provided.
Customer rating:
- 0 voted
Receive a Weekly Newsletter from CGH